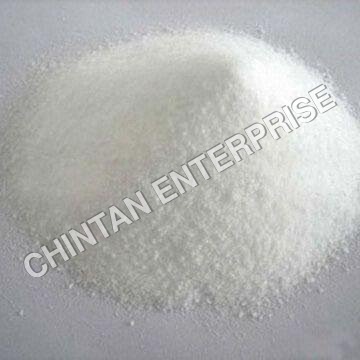 Calcium Propionate powder
Price And Quantity
Product Specifications
Chemical Grade

Industrial Lab Chemicals
Product Description




Calcium Propionate is produced by Propionic Acid and Calcium Hydroxide under Hygienic conditions. Calcium Propionate inhibits a broad spectrum of mold and rope bacteria while increasing the shelf life of bakery foods. Compared to other preservative options, propionates minimally impact yeast, making them the ingredient of choice for yeast-raised products and tortillas. In breads and rolls the common usage level for calcium propionate is between 0.3% - 0.5%. per hundredweight of flour. Purity levels of commercial propionates vary considerably so, it's better to always check with the supplier for actual content.

Better results can be derived when Victory CaP is used with Diluted Acetic Acid.

BAKED GOODS
Bread and other baked goods that are stored for any length of time, develops mold. To extend the storage time of commercially prepared baked goods such as bread dough, pizza dough, bread and pastries, manufactures add chemical preservatives. Calcium propionate works best in baked goods with a pH of 5.5 or less and in products that use yeast, rather than baking powder, as a rising agent. Other grain foods that may be preserved with calcium propionate include breakfast cereals, pasta and noodles.

DAIRY PRODUCTS
Dairy food containing calcium propionate includes dried and condensed milk; flavored milks and yogurt drinks; ripened, unripened and processed cheeses; dairy desserts such as flavored yogurts and puddings; and dairy-based spreads. Some cheeses, such as Emmentaler of Swiss cheese, contain naturally occurring calcium propionate, which develops as the cheese ripens and acts as a preservative in the cheese.

MEATS
Meat products containing calcium propionate include processed meat, poultry products; sausage casings; and preserved fish, including canned fish and shellfish.Calcium propionate is also added as a preservative to livestock and poultry feed.

OTHER FOODS
Other foods containing calcium propionate include alcoholic beverages such as beer, malt beverages, cider and distilled spirits with more that 15 percent alcohol. In addition, the preservative can be found in sports drinks, diet foods and beverages; commercially prepared salads such as potato salad; condiments such as vinegar and mustard; soups, sauces and dried or processed mushrooms, beans, seaweeds and nut butters.

EXCLUDED FOODS
Foods that do not use or contain calcium propionate as a preservative, according to the World Health Organization Food Standards are:
• Milk, buttermilk, fermented mild products
• Sterilized creams, whipping cream whipped creams, reduced fat creams,
• Whey cheese, whey protein cheese, dried whey products and butter.
• Fresh fruit, fruit juice, vegetable juice and fresh vegetables .
• Whole grains or rice, fresh pasta, fresh meat, poultry, game meats, fresh fish, liquid egg products, frozen egg products, sugar, honey, syrups, salt, herbs, spices, coffee, grape wines and infant formulas.

ALLERGIC REACTIONS
While safe for consumption by the public, calcium propionate may cause a reaction if you are allergic or hypersensitive to the compound. Children may be affected by preservatives in foods, according to a study published in the August 2002 issue of the "Journal of Pediatrics and Child Health." The study concluded that some children have a behavioral toxicity to food preservatives.

DOSAGE:
300 gm to 500 gm per 100 kg of dough mass along with vinegar.

CAUTION:
Avoid direct contact with skin and eyes.

Trade Information
Cash in Advance (CID), Cash Advance (CA)

1 Per Week