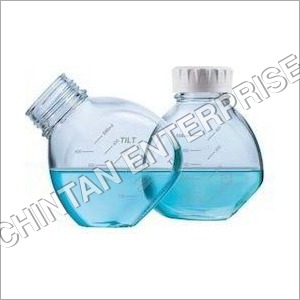 Duran Tilt Bottle
Price And Quantity
Product Specifications
1.5 Kilograms (kg)

Duran Tilt Bottle
Product Description
Product Details:
Application : Chemical Laboratory, Industrial
Brand : DURAN

DURAN TILT TURNING USABILITY INTO SECURITY

Biosafety cabinets and clean hoods are essential for working with cell cultures under sterile conditions. Unfortunately, they make the handling of media bottles difficult and time- consuming for researchers. The DURAN TILT bottle changes everything. The TILT bottle has two positions: upright for filter sterilization or storage, and tilted at 45° for pipetting. Take a look at cell culture media from a new angle and discover a bottle system that eases handling and turns usability into security.

Borosilicate 3.3 glass for reusability and lower whole life costs
Space saving shape for fridge storage and water baths
Low bottle height for easy handling in safety cabinets
GL 56 mouth and screw cap - bigger opening for easy pipetting and safer handling
45º TILT position for pipetting without holding the bottle
Tilted volume indicators for convenience
Vacuum resistant bottle for safe filter sterilisation

Filtering -In the upright position, the DURAN TILT bottle system is ideal for filter sterilising or clarifying cell culture media. Low bottle height is practical in the biosafety cabinet.DURAN GL 45 thread adaptor allows any 45 mm filter units to be used with DURAN TILT bottle.

Pipetting - In the 45° tilted position, the DURAN® TILT bottle makes pipetting of media easier under the hood. The innovative design enables both good aseptic and ergonomic practice.