Karl Fischer Reagent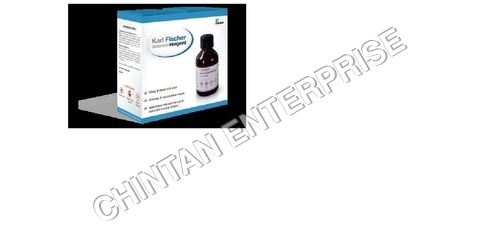 Karl Fischer Reagent
Price And Quantity
Product Specifications
Chemical Grade

School Lab Chemicals
Product Description
Karl Fischer reagent is an answer utilized in scientific science to decide the dampness content in a substance, especially in different sorts of tests, including solids, fluids, and gases. Karl Fischer titration is essential in businesses where exact dampness assurance is imperative for item quality and security. It is utilized in drugs to guarantee drug security, in food creation to keep up with item timeframe of realistic usability, and in petrochemicals to forestall consumption and corruption of fills and greases.
Specifications of Karl Fischer Reagent:
Ideal for Water Estimation In Karl Fischer Reagent:
Fine and Agrochemicals
Drugs and API
Petroleum and its products
Dye Intermediates, Pigments and Paints
Food and Natural products
Plastic and Polymers
Product Features of Karl Fischer Reagent:
Consistent and stable factor
High accuracy and precision
with minimum sample size
Right composition ensures high titration
speed and minimum analysis time.
Effective measuring range -100 ppm to 100 %
Suitable for liquid and solid analysis
Ideal viscosity ensures accurate result
in manual/automatic equipments
FAQs of Karl Fischer Reagent:
Q: How does Karl Fischer titration work?
A: Karl Fischer titration is a synthetic technique used to measure how much water (dampness) in an example. It includes the response of water with the Karl Fischer reagent, prompting an adjustment of the reagent's properties, commonly its electrical conductivity or the utilization of iodine. By estimating these changes, the dampness content of the example can be resolved precisely.
Q: What are the parts of Karl Fischer reagent?
A: Karl Fischer reagent regularly comprises of a few parts, including iodine, sulfur dioxide, a base (frequently pyridine or imidazole), and a dissolvable (usually methanol). Varieties in reagent sythesis exist, contingent upon the particular application and prerequisites.
Q: What kinds of Karl Fischer reagents are there?
A: There are two essential sorts of Karl Fischer reagents: volumetric and coulometric. Volumetric reagents depend on estimating the volume of reagent expected for the titration, while coulometric reagents use a controlled electric flow to create iodine and decide the dampness content in light of the charge passed during the response.
Q: What are the upsides of Karl Fischer titration?
A: Karl Fischer titration offers a few benefits, remembering high exactness and accuracy for dampness assurance, flexibility in examining different example types, and the capacity to identify follow measures of water. It's a generally acknowledged strategy in enterprises like drugs, food, and petrochemicals.
Q: What are the impediments of Karl Fischer titration?
A: A few limits incorporate the potential for impedance from substances that can respond with the reagents, the requirement for particular hardware, and the prerequisite for talented administrators. Moreover, Karl Fischer titration may not be appropriate for incredibly dry or exceptionally receptive examples.
Trade Information
Cash in Advance (CID) Cash Advance (CA)

1 Per Week